There are many reasons parents explore KiwiSaver for their children, including helping to grow their savings and teaching them good financial habits. However, there are a few key considerations to make when signing your kids up for KiwiSaver and some aspects that will differ until they are 18. Read our guide to make sure you understand how it all works before signing them up! 
Joining KiwiSaver
When signing your kids up for KiwiSaver, unlike over 18s, they can't join through their employer even if they are working. They will need to join through a scheme provider and apply directly to them. 
To apply, you'll need their IRD number. If your child is under 16, both parents or guardians will need to sign the application form on their behalf. If your child is 16 or 17, they must sign the form alongside at least 1 parent or guardian.
Before signing your child up, consider the decision carefully as there is no option to opt-out even once they turn 18!
Selecting a fund
When signing your child up to KiwiSaver you'll need to select a fund with your chosen provider to invest in. A Haven adviser can guide you through suitable options so you can consider carefully what fund is the best choice for your child currently. They will have the option to move funds again in the future. 
Alongside considerations like risk and potential returns, you should look at the fees associated with a particular fund. As under 18s aren't entitled to employer or government contributions, you don't want your contributions to be eaten away by high fees.  
Making contributions
For under 18s, the main way to contribute is through voluntary contributions. However if your child is working they will need to contribute a minimum of 3% of their wages or salary. Once they've been a member for 12 months they will have the option to take a savings suspension for 3 to 12 months. 
Unlike over 18s, even if your child is working, their employer is not required to contribute. They also don't qualify for the government contribution until they are 18. 
Withdrawing 
When you can withdraw your KiwiSaver is the same for all members. Generally, your money is locked away until you're 65. However you may be able to withdraw funds to help buy your first home, if you're permanently moving overseas, experiencing financial hardship or are seriously ill. 
Summary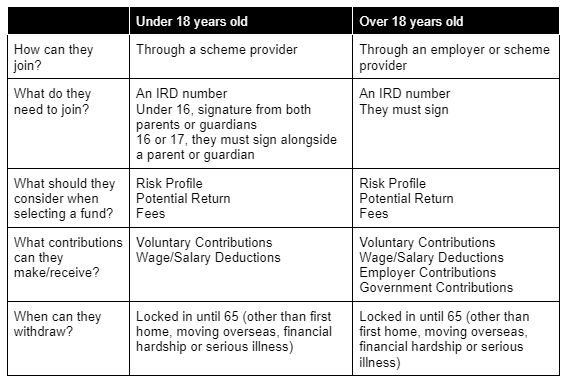 How can a Haven Financial Adviser help?
Our advisers are able to work with to help you decide which KiwiSaver fund is right for your child's financial future. If you have any other questions, don't hesitate to get in touch with our team.