We all look forward to the food at Christmas, but many of us tend to overindulge. If your kitchen is always bursting with food after the big day, here are some tasty recipes to repurpose your festive leftovers into something new!
1. Leftover Roast Vegetable Quiche
A quiche is a tried and true method of using any kind of leftovers, but Christmas leftovers really make it something special!
Ingredients
2 sheets frozen shortcrust pastry, thawed
3 eggs, plus 1 extra, lightly beaten
1/2 cup pouring cream
200 gram leftover roasted vegetables (such as broccoli, courgette, yam, carrot)
3/4 cup marinated antipasto vegetables
1/4 cup grated pizza cheese
rocket leaves to serve
Method
1. Preheat oven to moderate, 180°C. Lightly grease an 11cm x 34cm rectangular, loose-bottomed flan pan.
2. Ease pastry into pan to line, cutting and pressing edges together to fit. Place on an oven tray. Prick base lightly with a fork.
3. Bake blind for 15 minutes. Remove paper and filling, then brush the base with a little beaten egg while hot.
4. In a bowl, lightly whisk eggs and cream together. Season. Stir through vegetables and antipasto mix. Pour into pastry case. Scatter with cheese.
5. Bake for 15-20 minutes until just set. Serve warm or cold with rocket leaves.
2. Ham, Pea and Parsley Fritters
Fritters are also a tasty go-to when it comes to leftovers – you can put anything in a good old fritter!
Ingredients
2 cup julienne ham
1 cup peas, fresh or thawed or leftovers
2 spring onions, chopped
1/4 cup chopped flat leaf parsley
2 eggs, beaten
2 heaped Tbsp plain flour
1/4 teaspoon sea salt
Pinch black pepper
Oil for cooking
Wholegrain mustard, to serve
Method
1. In a bowl, combine the ham, peas, spring onions and parsley. Add the beaten eggs and flour seasoned with salt and pepper. Stir to combine.
2. Heat 1cm oil in a frying pan to medium. Drop tablespoonfuls of the fritter batter into the oil and fry until golden brown – don't be in a hurry to turn them over, cooking well on the first side is a good idea.
3. Gently flip and fry until golden and cooked through.
4. Serve the fritters with wholegrain mustard.
3. Easy Tacos
This might not be your first thought for leftovers, but tacos are so quick and easy and can be filled with whatever you like!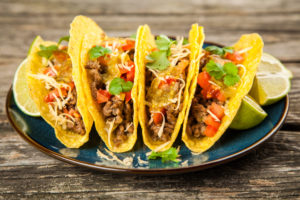 Ingredients
400g minced and cooked lamb, beef or chicken
1 cup store-bought salsa
3-4 drops Tabasco sauce, optional
8 taco shells
Method
1. Combine the meat and about a cup of the salsa and the Tabasco.
2. Cover and heat through in the microwave.
3. Warm the taco shells.
4. To serve, fill tacos with lettuce, lamb and other toppings of choice.
4. Christmas Cake Ice-Cream
This one is a real goodie, especially when the weather is heating up!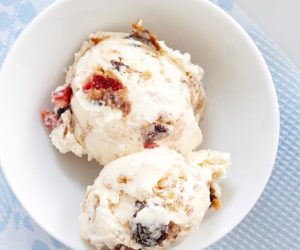 Ingredients
1 litre softened vanilla ice-cream
1 tablespoon brandy
1/2 teaspoon mixed spice
250 gram chopped christmas cake
Method
1. In a large bowl, combine softened vanilla ice-cream, finely grated zest and juice of lemon, brandy and mixed spice.
2. Fold chopped christmas cake through ice-cream mixture until just combined. Spoon into a freezer container and freeze until firm, stirring occasionally. Serve in scoops or in cones.